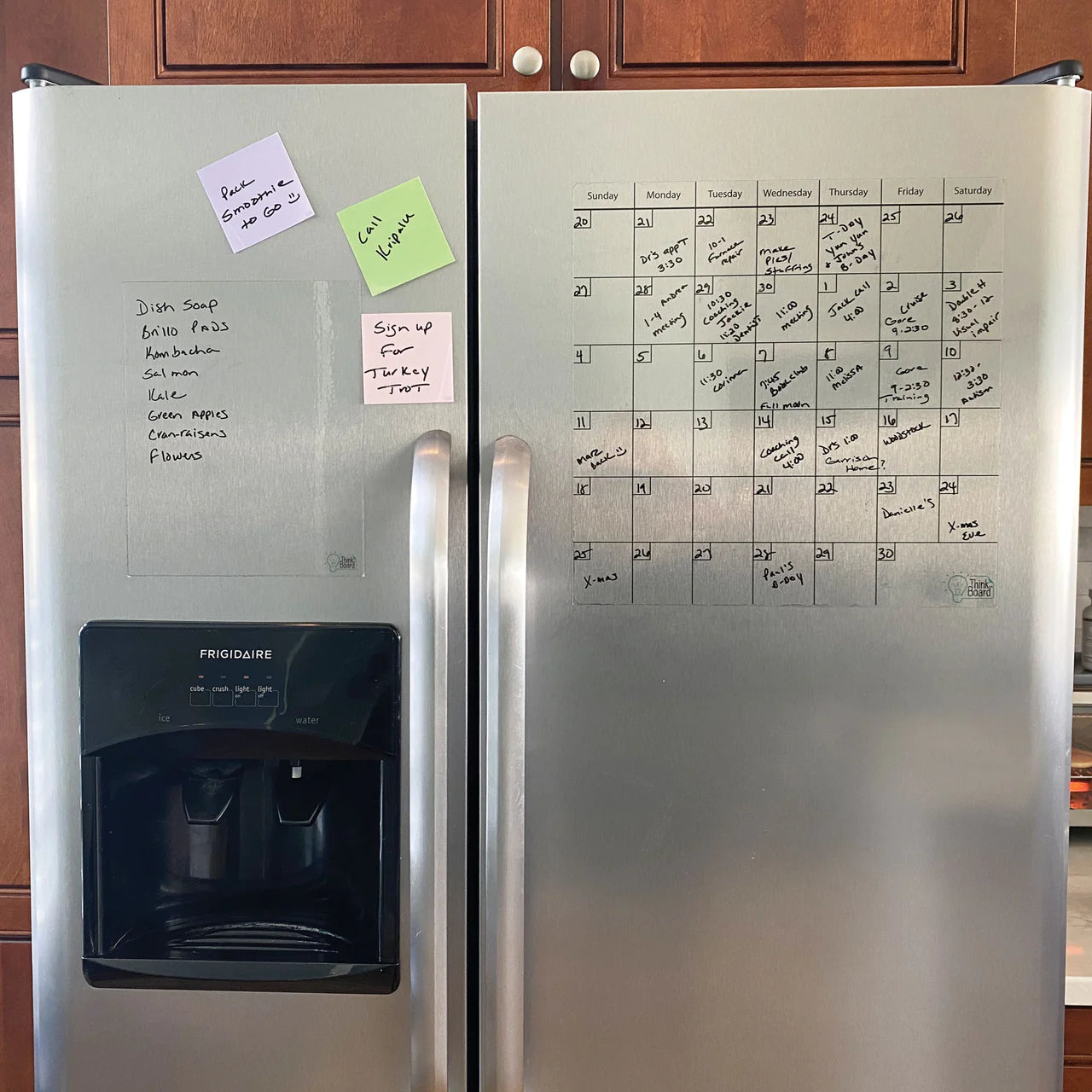 A Perfect Grocery List
Master your grocery game with the Think Board Small – the ultimate fridge companion for your shopping lists. Simply peel, stick, and start listing! Meticulously designed for the pace of modern life, right here in the USA. Opt for just the board, or select our complete Refrigerator Bundle to elevate your kitchen organization to the next level. Make the most of your fridge space and ensure you always remember the essentials with this perfect planning partner.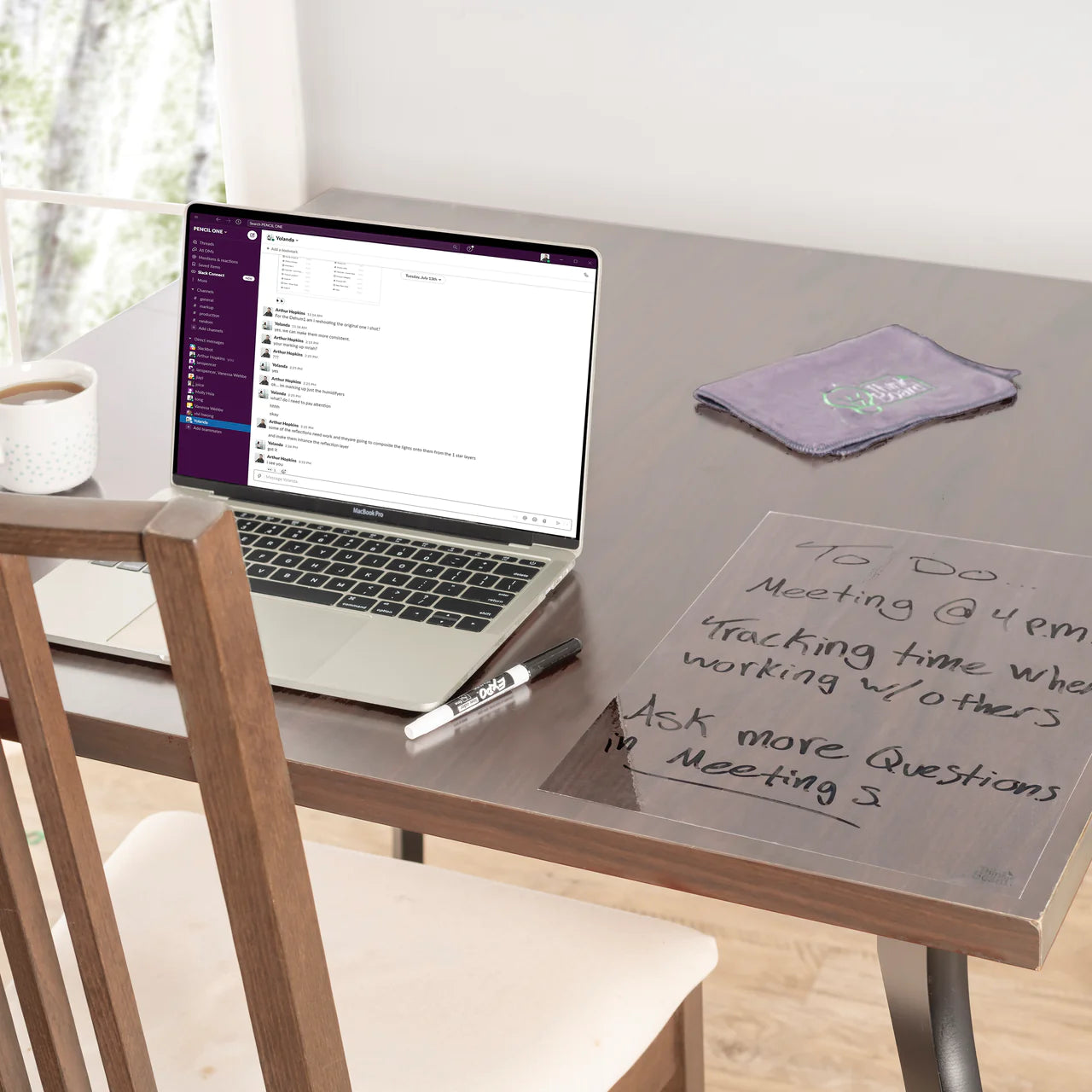 Clarity for Your Workspace
Turn your desk into a productivity powerhouse with the Think Board Small. Ideal for jotting down to-dos, quick reminders, or that ever-growing shopping list, this compact board is the perfect addition to streamline your thoughts and tasks. With an easy peel-and-stick design, it's ready to capture your next big idea. Pair it with your workspace essentials for a neat, efficient, and organized desk setup.
Looking to convert your entire desk into a whiteboard? Check out our Whiteboard Table Resurfacing products.
Streamlined Solutions for Everyday Efficiency
Think Board Small is more than just a surface; it's a catalyst for clarity in your daily routine. Our passion is crafting products that not only blend seamlessly into your life but also inspire a more organized, creative, and productive mindset. Whether it's a quick note at home, a grocery list on the fridge, or an action item at work, we're here to ensure that the little things are taken care of, giving you the freedom to focus on the big picture. Experience the simplicity and satisfaction of having your thoughts organized beautifully with Think Board Small.
Perfect for:
The Think Board small dry erase sheets are highly versatile and can be conveniently placed on various surfaces like your refrigerator, desk, clipboard, and more.
Why you need it:
Your brain will thank you, trust me. 
Forget about struggling to write on small sticky notes during work, or trying to squeeze a lengthy shopping list onto a tiny notepad. If these scenarios sound familiar, our small dry erase sheets are the ideal solution for you.
Think Board Small Sheets are designed for instant note-taking, providing an innovative approach to jotting down important points. You can stick them to a wall, door, table, desktop, or refrigerator, making them perfect for meetings, to-do lists, classroom activities, and much more.
What's included:
1 Think Board Small Sheets Pack of Your Choice: We offer four different Small Sheets packs for you to choose from. These include 8"x11" (3-pack), 8"x11" (25-pack), 11"x17" (single), and 11"x17" (3-pack). 
1 Black Marker: We include this with your purchase for clear, readable writing every time you use your Think Board Small Sheets. 
1 Cleaning Cloth: This is included for easy cleaning and maintenance of the board.
Velcro Dots: Use these 

to attach the marker to the wall and hang the cloth.
Please note, the 25-pack comes with 25 markers and 25 cleaning cloths, providing you with a comprehensive set for multiple use scenarios.
This product turns any surface into a reusable writing surface — just peel and stick. It causes no damage and leaves no sticky residue on surfaces. Proudly made in the USA. 
Dimensions: Available in 8"x11" or 11"x17" sizes (approximately 21cm x 28cm).
Frequently Asked Questions
How can I ensure a smooth installation of my Think Board Small on a Fridge?

Achieving a seamless installation of your Think Board Small is simple with our step-by-step Wet Install video guide. Our biggest pro tip is to use plenty of water during the application — don't be shy! This will allow you to move the film around and reduce air bubbles. After installation, give it a few days to fully dry; it might appear foggy at first, but this will clear up as it sets. Ready to get started? Head over to our installation page and watch our Wet Install video for all the tips and tricks you'll need.
Does the Think Board leave any residue upon removal?

Our Think Boards are as respectful to your surfaces as it is to your planning needs. When you're ready for a change, it peels off cleanly without leaving any sticky residue behind. Unfortunately, it won't be reusable at this point.


If you're using it on a stainless steel fridge, the surface underneath may appear slightly different in color initially. This is due to the oxidation process of stainless steel, not from any residue. Just give it a few days to a few weeks, and the surface will oxidize back to match its original appearance.
How does the Think Board adhere to different surfaces?

The Think Board is designed with a special adhesive that allows it to stick securely to any smooth surface without causing damage. You can apply it to a wall, desk, table, door, fridge, window, or really any smooth surface. This makes it an ideal tool for teachers, professionals, and anyone who loves to stay organized.
Or Grab The Full Bundle Below!