Frequently Asked Questions
Please select below the section that is relevant to you!
Is there anything I definitely need to know?
Glad you asked :)


1. Watch our install video. You'll be happy you did. If your board is larger than 2'x3', definitely grab a friend.
2. Don't use Expo BOLD markers on our non-premium products.
3. Sharpie comes off our premium products easily with rubbing alcohol.
4. On a wet install, use more water than you'd think. Most people are wet installing their Think Board on a fridge, glass, or when resurfacing chalkboards / resurfacing whiteboards.
5. Free US shipping & free returns. Try it & love it. And if not, you have 100 days to return it, no questions asked :)
Premium Think Board vs Regular.... What's the difference?
Our normal Think Board products are excellent for moderate use. If you just want a place to jot down ideas here and there, the Think Board Medium or Think Board Large is for you! These products all come in Clear and White.
Our Premium Think Boards, Premium XL Think Boards, Resurfacing Think Boards, Magnetic Think Boards, Premium XL Calendars, and Whiteboard Table Covers are all made with our Premium Think Board Material. Most of these products come in Clear and White.
The Premium Think Boards erase better, stay clean longer, stick better, remove better, and are easier to install. They work with every dry-erase marker, have a sharpie-proof coating, scratch-resistant finish, and last 10-15 years in high-use settings (classrooms, hospitals, coworking spaces). They only need our included microfiber cloth for cleaning, but can also be deep cleaned with 70% Rubbing Alcohol if needed. (If you get a sharpie or anything else permanent on the board, you will probably need Rubbing Alcohol to remove it).
If you plan to use your Think Board every day, multiple times per day, or if you plan to have your Think Board in a public-facing part of the office, school, etc, we'd recommend a Premium Think Board.
The testing we've done on our Premium Think Boards
- We left dry-erase marker on a Premium Think Board for 6 months and it erased with nothing but a microfiber cloth.
- We successfully erased a small sharpie marking off a Premium Think Board 3 years after it was marked.
- After every demo board we install (for a school), we draw on it with Sharpie to prove that it actually erases.
Long story short, we need another 5-10 years to run these next tests to see if it will erase after a longer period of time!
Below is a quick GIF of us erasing week-old Sharpie from our new "Think Notes," which are also made with our Premium Material. If that's not enough to convince you, grab a sample and test for yourself!

How do I keep my Think Board squeaky clean?
We include a microfiber cloth with every Think Board. You won't need any whiteboard cleaner or chemicals to clean your board, ever. If you leave markings on the board for over 2 weeks, a mist of water will help it return to 100%
If for some reason something is not erasing, it is likely that there could be some goop or glue or something weird stuck to the Think Board. Rubbing alcohol should take that right off. And if colors aren't cleaning properly, rubbing alcohol will handle that too!
Ps. we have this conspiracy theory that some of the bigger companies tell you to use the spray cleaner & black square foam erasers as a way to get you to buy more whiteboards and more cleaner… that combo actually causes micro scratches in the surface and results in significantly shorter product life. Spray + microfiber is OK, but not really needed on our products!
When will Think Board not stick?
Not all paints are the same. 99% of the time Think Board sticks great. If for some reason yours fell down, send us an email and we'll hook you up with a stronger replacement!
Sometimes we recommend a "tape test" to be sure. If taping a poster up on your wall doesn't stay for more than a day, it is unlikely that Think Board would stick.
Think board may not stick properly if:
Your walls are painted with mold/germ resistant paint, washable paint, or stain-release paint
Your walls were painted less than 30 days ago. Paint off-gases. So if you just painted your wall, there's a chance that the off-gassing will create a bubble or two in your Think Board. Definitely wait if you can.
The texture of your wall is rougher than the image below, email hello@think-board.com a photo of your wall and we'll be able to tell you!
If you run into any issues with your Think Board sticking properly, please reach out! We have different strengths of adhesive that we can alter to work for your situation! We also have a custom foam product if needed, which really smooths everything out nicely!
ps. We've had customers add a little tape or thumbtacks to the corners just to be certain their Think Board won't fall. Unfortunately, all paints are different and we can't be certain that it will work 100% of the time. But hey, if it doesn't work, we'll refund you :)
Here's an example of the roughest wall we'd recommend putting Think Board on. It will definitely work, but the writing may be a little bumpy.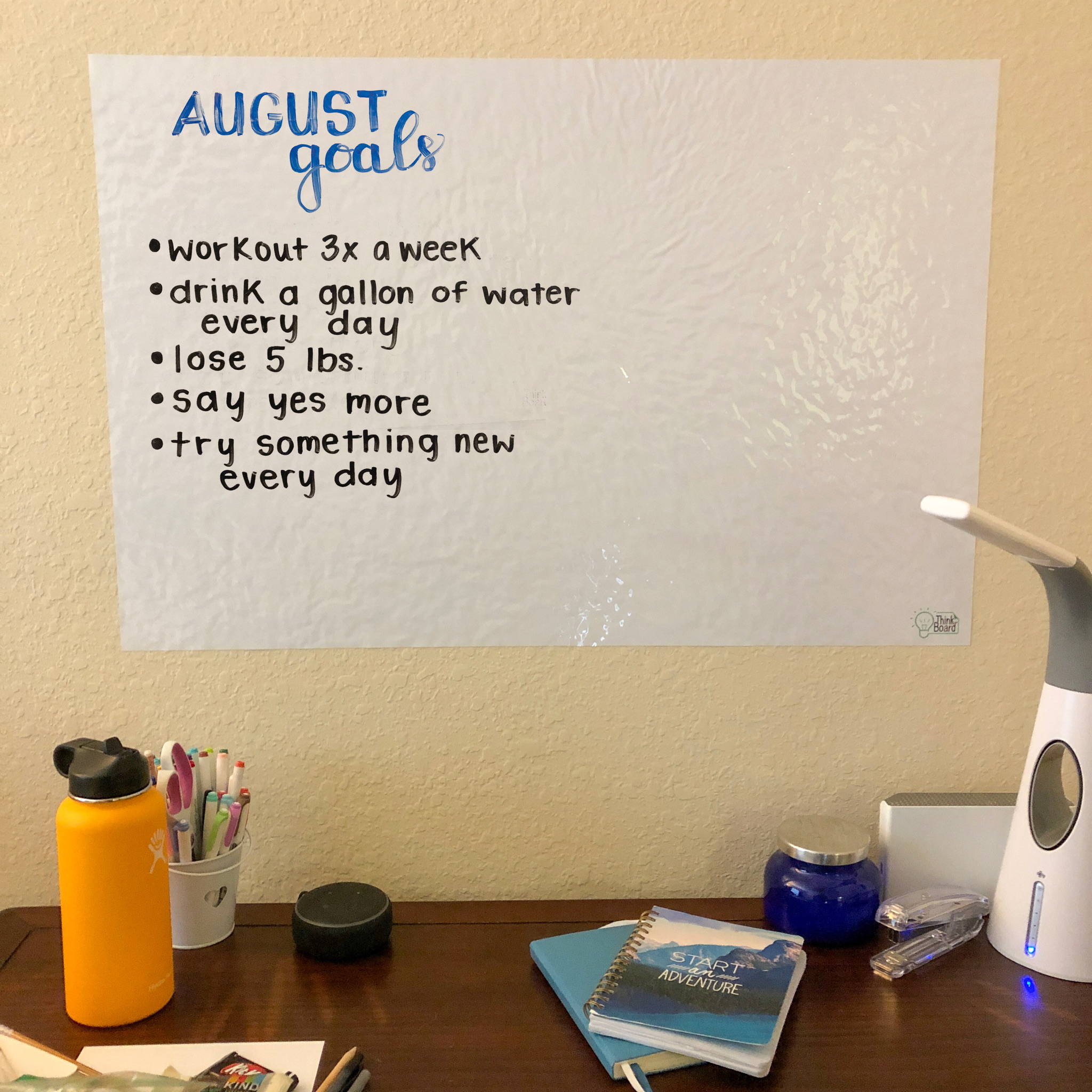 Help! I have a textured wall. Will Think Board work?
The smoother the surface, the better! Think Boards work best on smooth surfaces but Premium Boards can handle more texture. Check out this link to take a look at our recommended surfaces. Don't see the texture you are looking for? Send us over a picture to hello@think-board.com
We don't recommend trying to install Think Board on anything rougher than the photo below. If you are looking to install on painted cinder block, brick, or anything rough, please reach out since we have a Foam product we can layer in for you.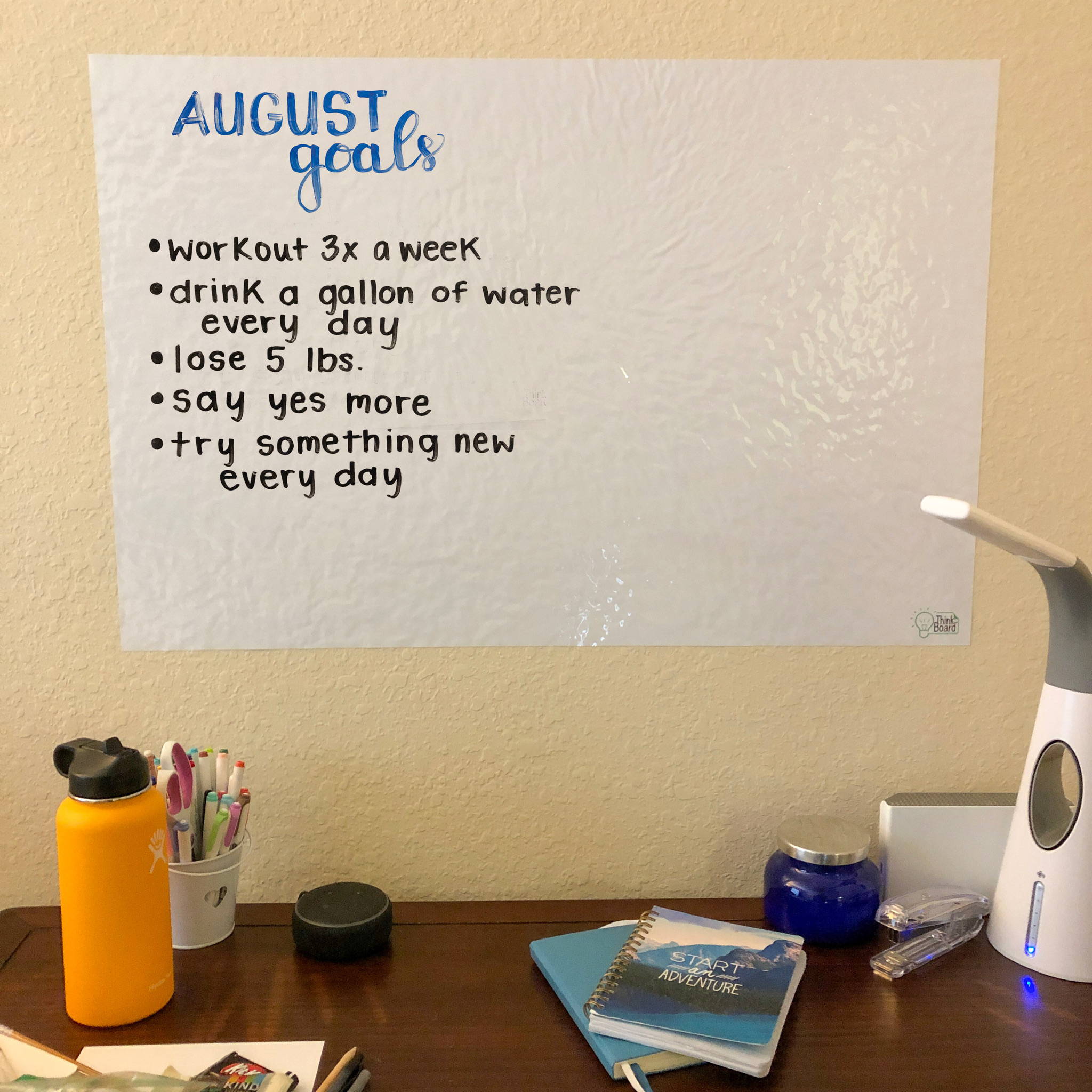 Below is an image of the Think Board on painted cinder block in a Public School. This is a custom product. If interested, please email orders@think-board.com.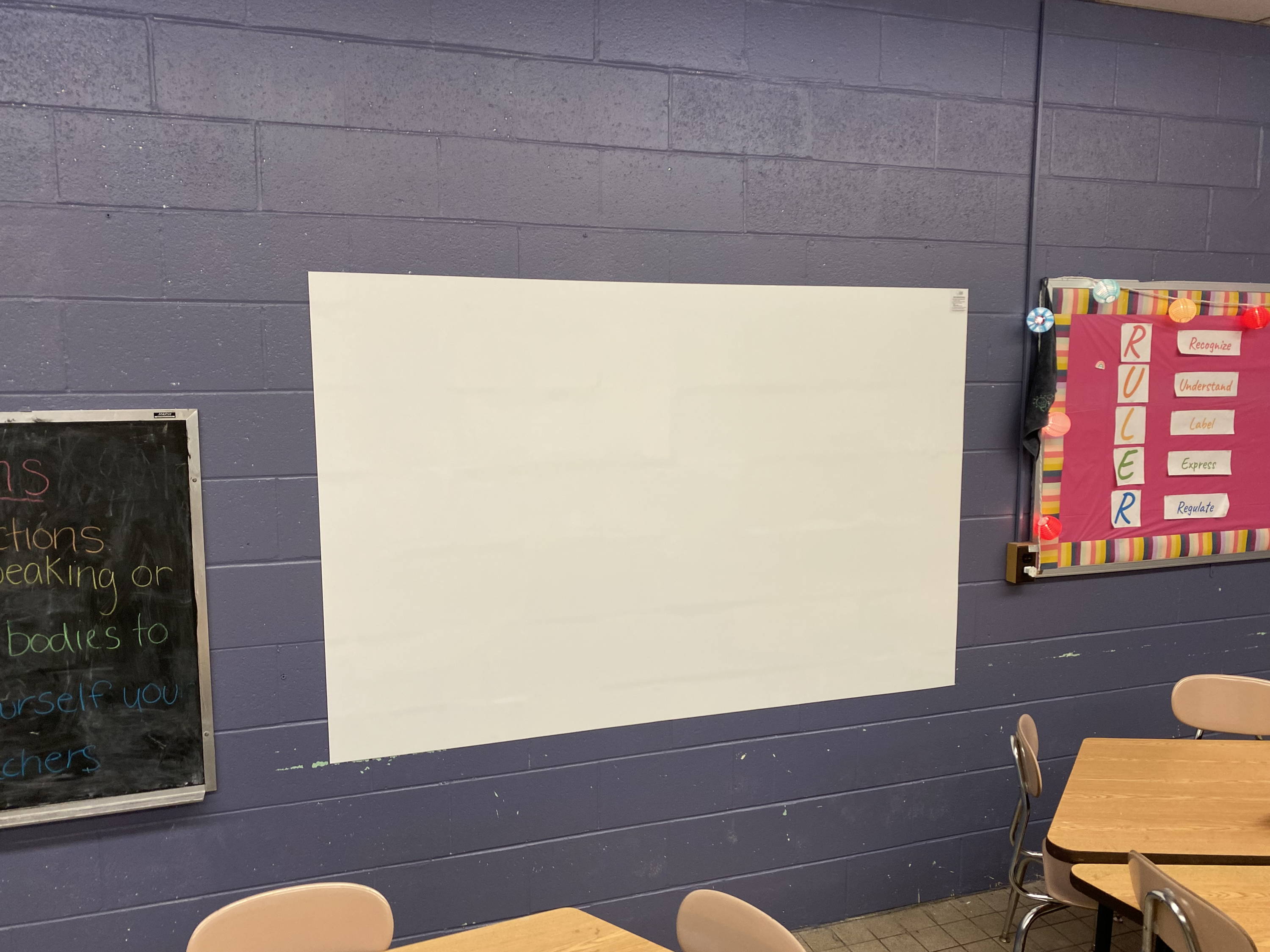 When do I need to do a "wet" install?
Use the wet install on super smooth surfaces like glass, windows, plexiglass, whiteboards, chalkboards, stainless steel surface or similar! For a smooth installation watch the "Smooth Surfaces" install video on our install page! 
Pro Tip: Add more water than you think! It's okay to get the surface pretty wet. It will only help you squeegee out allllllll the bubbles.
Would Think Board ever damage my paint?
The "tape test" is definitely recommended if you're concerned. If a piece of tape peels your paint upon removal, the Think Board probably will too. For every 1000 Think Boards we ship out, we probably get 2-3 complaints that paint has peeled off the wall. So it's possible, but the adhesive was specifically designed for this not to happen!
Think Board may damage the paint if:
The wall is not primed properly (or at all).
The wall was painted with latex paint.
The paint is already old, brittle, and flakey.
Will it ever discolor and start "ghosting"?
We designed our products to match the longevity of the highest quality whiteboards on the market. After a few years, they might start to get a little dirty. But a mist of rubbing alcohol should clean it right up! We promise they will never look like your old whiteboard paint…
Like.... this photo...
ps. that is a Think Board after a few months of use on top of whiteboard paint after only a few years of use...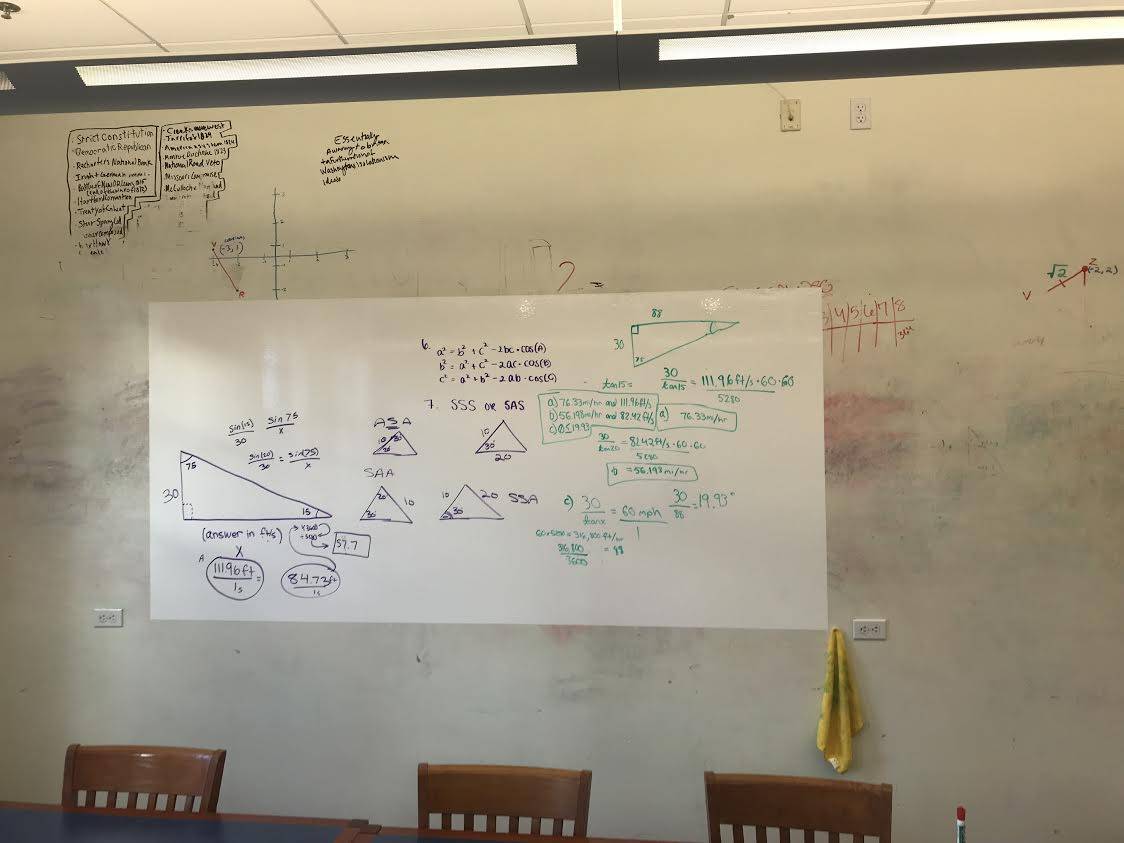 What do I do if I open my package and the board appears to be wrinkled?
Don't panic! Think Boards can get tossed around during shipping but never fear, once installed the wrinkles should generally smooth right out. If you are still having problems after the install shoot us an email to hello@think-board.com.
My Think Board was installed perfectly, but now has a bubble in the middle?
There could be 2 reasons for this. The first would be there was too much tension during the install. The second could be due to drastic shifts in temperature/humidity. Either way, we recommend peeling the Think Board back up to the bubble and re-smoothing it onto the wall using the methods in our installation video. Be careful not to stick the adhesive sides together when adjusting!
Here's a short video we made on how to remove these bubbles!
If this doesn't solve your problem, shoot us an email!
Can I cut/trim my Think Board with scissors?
Yes! You can cut your Think Board to any size or shape you'd like to work on. However, please don't cut a Think Board X, since you need all 4 corners for scanning.
Cutting with Scissors is fine. We'd recommend a utility knife and a straightedge to make sure it's a straight cut!
We can also custom cut these for you if you have the dimensions you're looking for! Just fill out our Custom Form or reach out on our live chat and we can help!
Can I get a Custom Think Board with my logo? Or a Custom size?
Yup! Check out our custom page for details. We have a pretty small minimum order, so just let us know what you're hoping for and we'll make it work for you!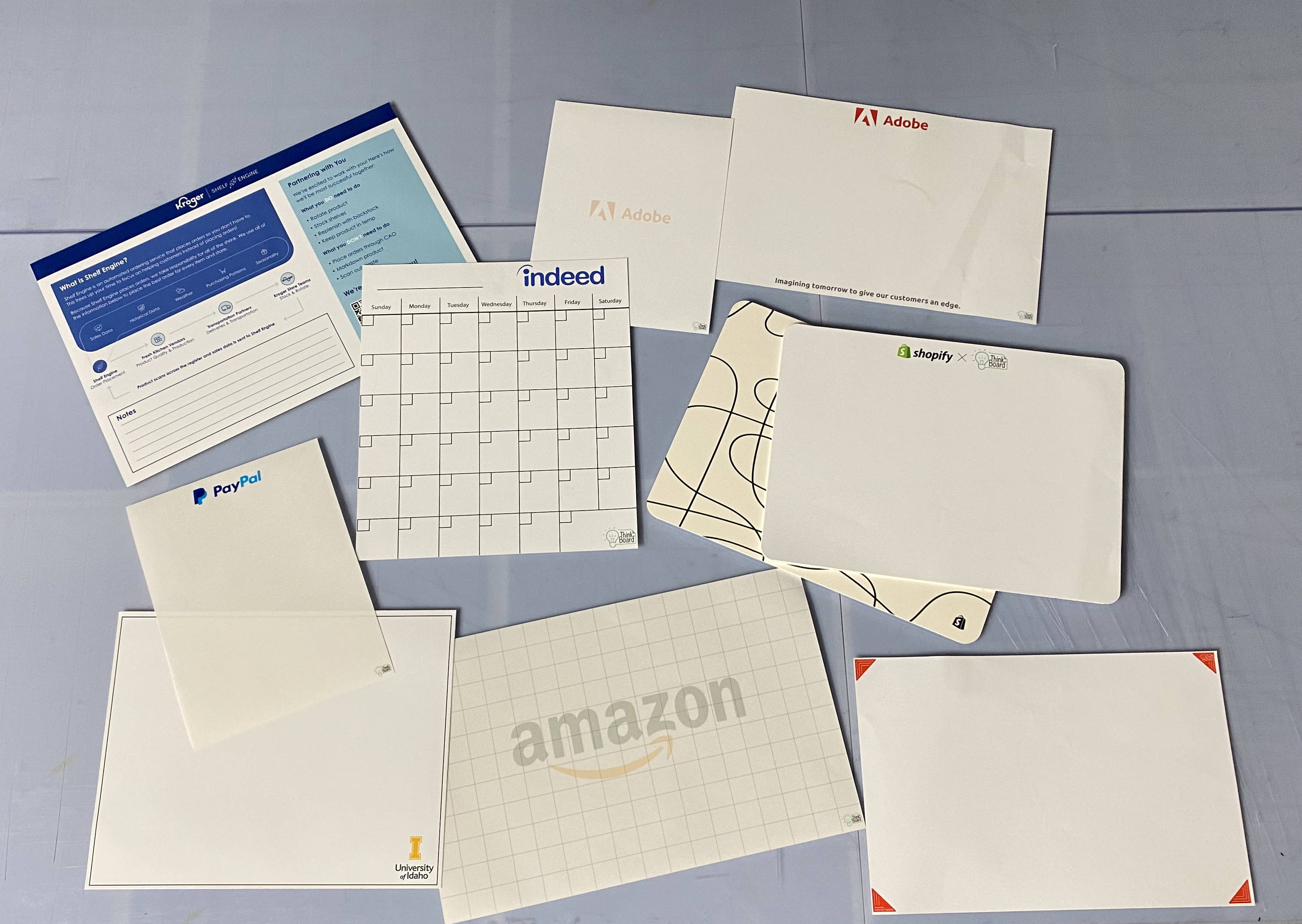 Can I move the Think Board?
We recommend keeping the board set up in 1 spot. Moving the board is difficult because you are essentially moving a massive sticker from place to place. If you've ever tried to use a piece of tape that was way too long and it got stuck to just about everything, then you know why we don't recommend moving your Think Board. If you give it a shot anyway and you succeed, send us photos! We'd love to hear your tips and tricks and share it with everyone. Let us know if you didn't succeed too. We might be able to help you out with another one ;)
How do I remove my board properly?
Fold the board back on itself at a 180° angle, and pull it very slowly. (Writing sides touching)
If you need a visual, here is a short video we made.
There will be no evidence the board was ever there :)
Think Boards itself if not magnetic. However, if you put the board over a magnetic surface (like an old magnetic chalkboard) the board will still be magnetic!
We also recently launched a magnetic Think Board! Check it out!
What types of markers can I use on my board?
You can pick almost any of your favorite markers! Just stay away from Expo Bold and red markers on our non-premium products :)
Can I use Think Board on a dark surface?
Yes! It looks really sweet too! Try checking out neon dry-erase markers or liquid chalk markers. Unfortunately, we haven't found any "white" dry-erase markers yet. But liquid chalk works! You just need water to erase those.
How do I use my Think Board X?
After watching this installation video for your new Think Board X you'll soon be an expert installer! Once your Think Board X is installed, download the Rocketbook app and scan away!
Do you ship internationally? Will I have to pay import duties?
Yes and yes. We ship worldwide to every country via the United States Postal Service. USPS picks up the package and delivers it to the Customs Office in your respective country. From there, it is your responsibility to pay any import fees associated with the purchase. They will email you or call you with the email/phone number provided during your purchase. They will then pass the package off to your country's local Postal Service.
Classroom/Resurfacing FAQ
What states/countries do you service?
We have install crews in pretty much every major city in the United States & Canada. As long as you are within a few hour's drive from a big city, we'll be there!
We also have an install team in the UK who is happy to service most of Europe if needed.
Outside of this region? Let us know and we'll happily look into expanding into your region so we can work with you and the schools, offices, and hospitals in your area.
Are you on any purchasing contracts?
We've partnered with Amazon Business, and through this connection, we're part of OMNIA Partners, one of the most respected public sector purchasing cooperatives.
This collaboration ensures our Think Board products have been pre-approved and listed on OMNIA's vetted companies list. This way, you can conveniently shop for our products directly on Amazon Business, maintain procurement compliance, and perhaps save some money too. You'll find our Whiteboard Resurfacing products and Installation Services readily available there. As long as your school can purchase via Amazon Business, Think Boards are within your reach!
Just remember, it's crucial to order our products through Amazon Business and not Retail Amazon to keep everything compliant. Also, your school district should be part of the OMNIA contract with Amazon Business. To make things clear, the contract we're referring to was bid by Prince William County Public Schools and is marketed by OMNIA. It's a part of how cooperative purchasing works, with the public entity bidding and OMNIA marketing.
In order to purchase from us, make sure your district is registered with Amazon Business, your school is included in this account, and your district participates in an OMNIA contract like the one with Prince William County Public Schools or another Amazon Business cooperative, such as PEPPM.
Also, we do manufacture this product and therefore are the only company in the world that have access to this specific material. We have a Sole Source letter we can email over to you that clearly spells out all the information needed to ensure that your purchase is approved.
Do you accept Purchase Orders?
Yes, we do! We accept Purchase Orders with terms from Schools and Hospitals. If you are not a School or Hospital, we can still process a PO, but will need payment via ACH or Credit Card before we ship your products.
If you would like to order via a Purchase Order, please email purchasing@think-board.com for a formal estimate and our W9.
We are tax exempt. Can you honor that?
Yes, we can! Just send over your Tax Exemption Certificate to hello@think-board.com
If you're ordering via PO, the process is simple. If you would like to order Tax Exempt online, please create an account on our site here, email your Tax Exemption Certificate to us, and request that we update your account to Tax Exempt.
Do you have a Sole Source letter?
We manufacture this product and are the only company in the world with access to this material. We have a Sole Source letter we can email over to you that clearly spells out all the information needed to ensure that your purchase is approved.
Just email hello@think-board.com and we'll get it over to you!
Does this save the hassle of an asbestos abatement?
Short answer: yes. We've saved schools hundreds of thousands of dollars in asbestos abatement costs.
Asbestos was commonly used in the construction of schools between the 1950s and 1980s due to its durability, heat resistance, and insulating properties. It was often used in building materials such as insulation, flooring, ceiling tiles, and roofing.
Asbestos is dangerous because when its fibers are disturbed, they can become airborne and inhaled, leading to serious health problems such as lung cancer, mesothelioma, and asbestosis. The risks of asbestos exposure were not widely recognized until the 1970s, and many schools built before that time may still contain asbestos-containing materials that need to be properly managed or removed to prevent exposure to students and staff.
Resurfacing the chalkboards that have asbestos behind them is a great way to keep the fibers contained and upgrade to new premium whiteboards in your school. Resurfacing with Think Board saves you time, money, and a whole lot of hassle.
Can you go over whiteboard paint/whiteboard wallpaper?
Yes we can! We have covered an entire school that previously painted their chalkboards with whiteboard paint. You can read about that here.
Below is a video of us installing Think Board over a 26 foot Walltalkers Whiteboard that was no longer erasing well.
And here are some before and after photos of resurfacing Whiteboard Paint.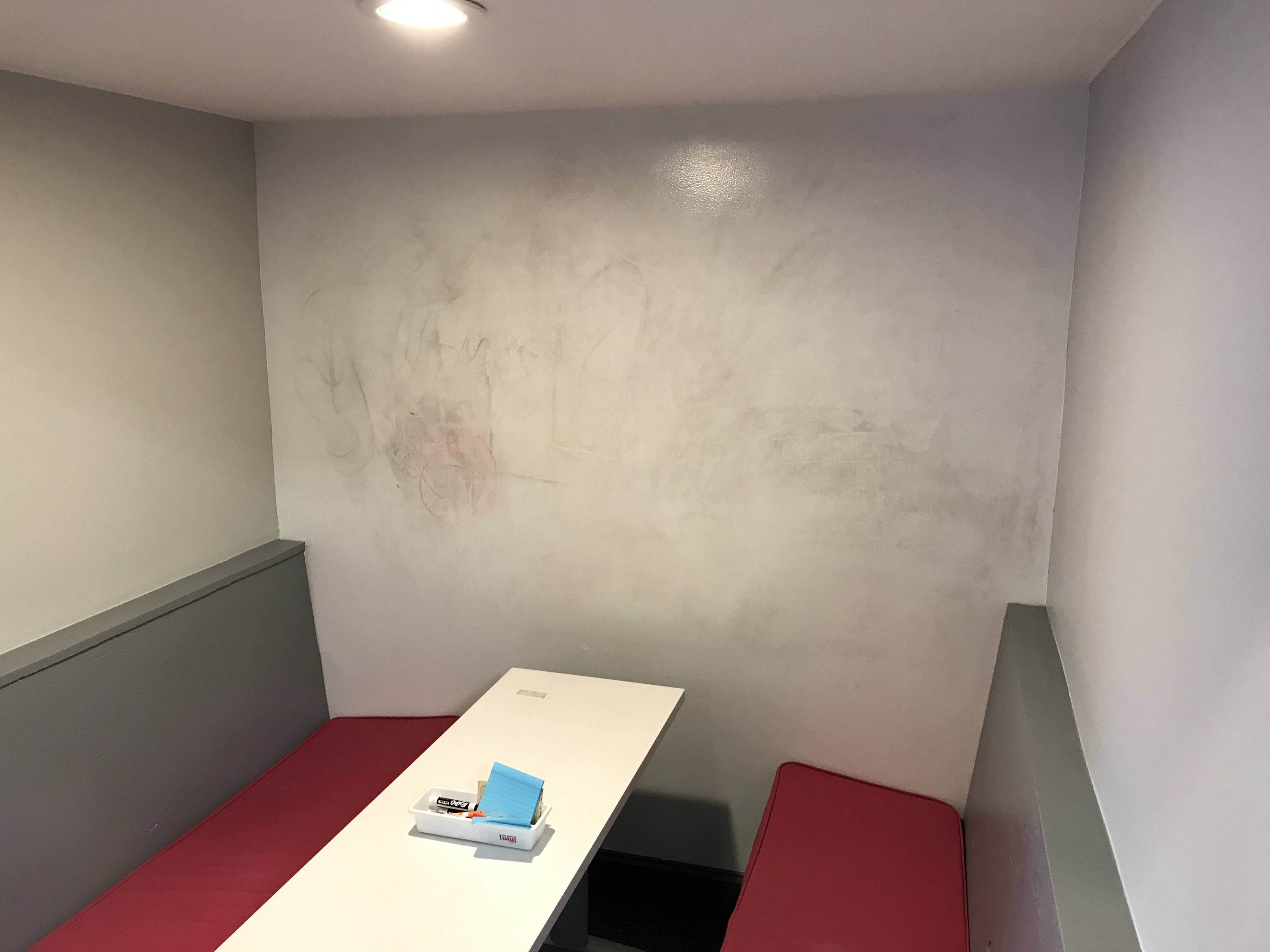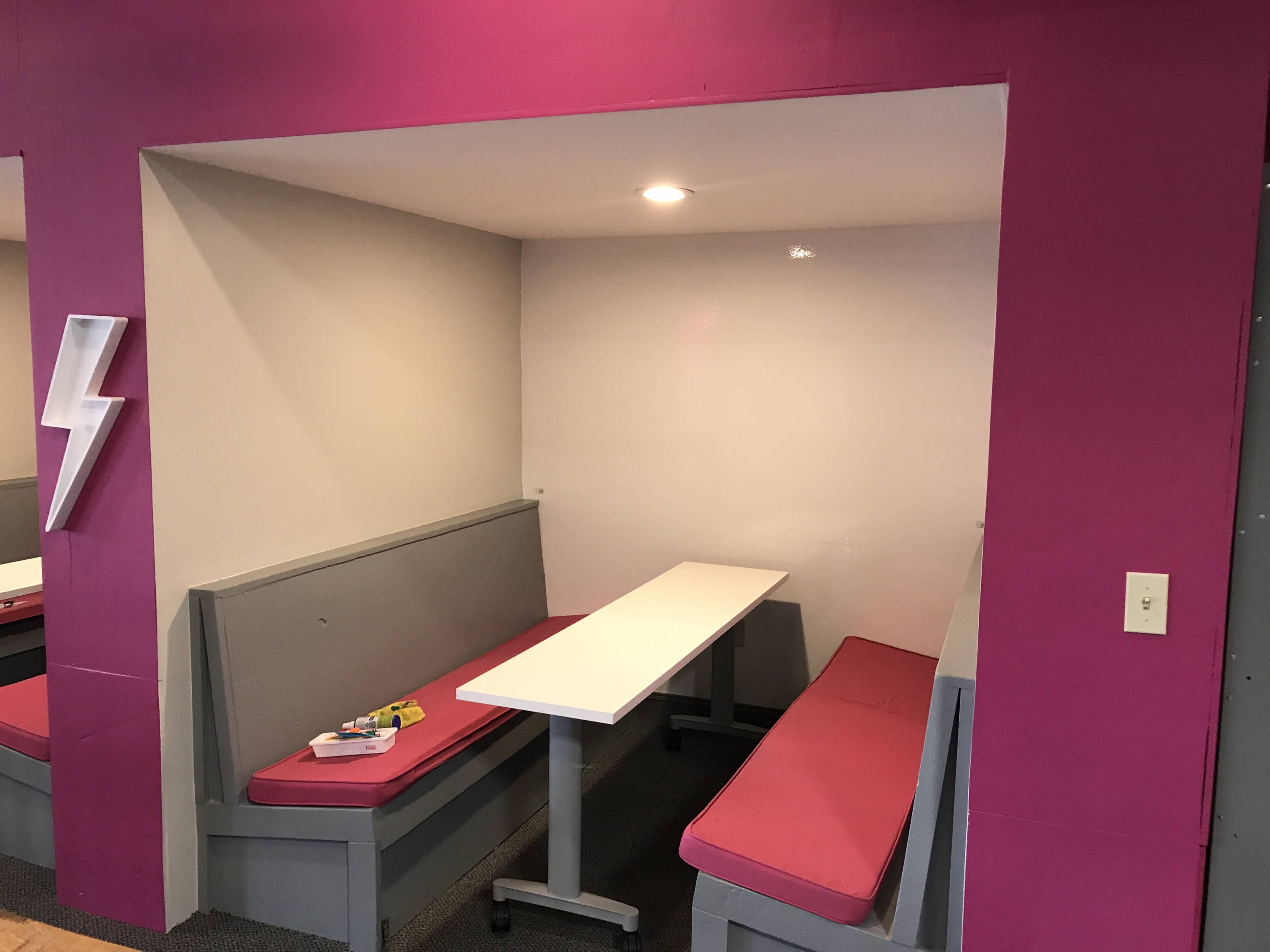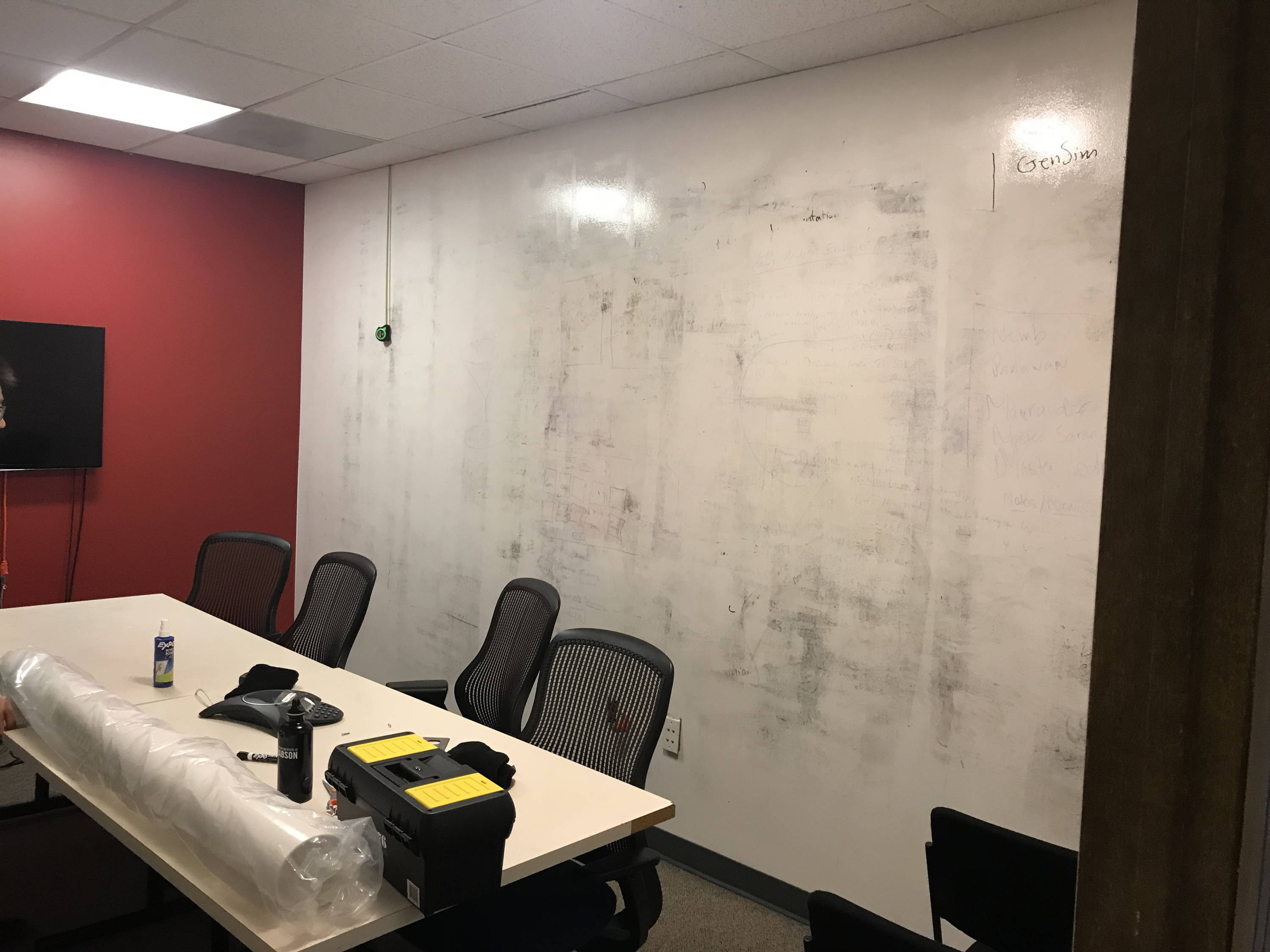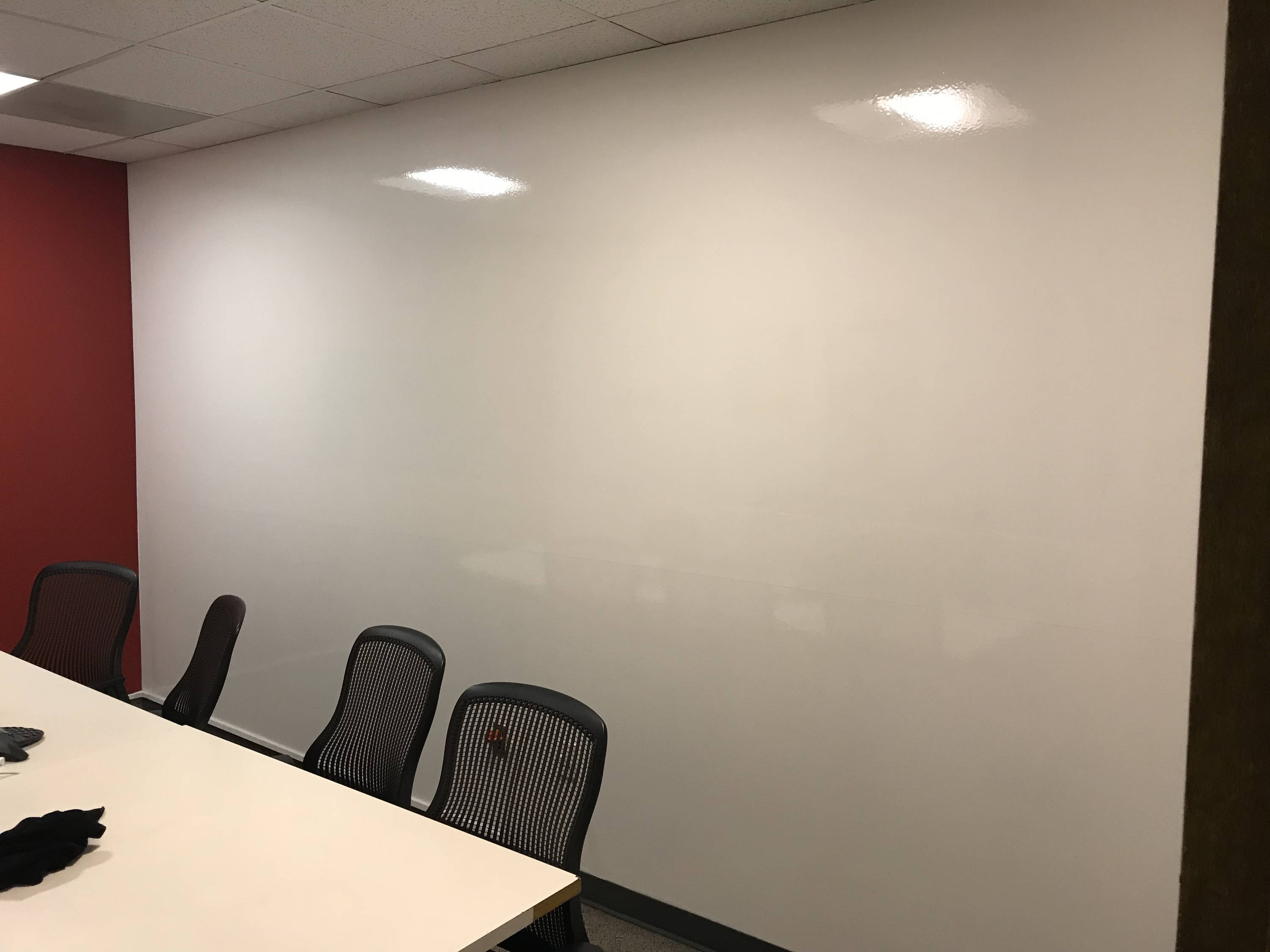 Don't let your classrooms look like this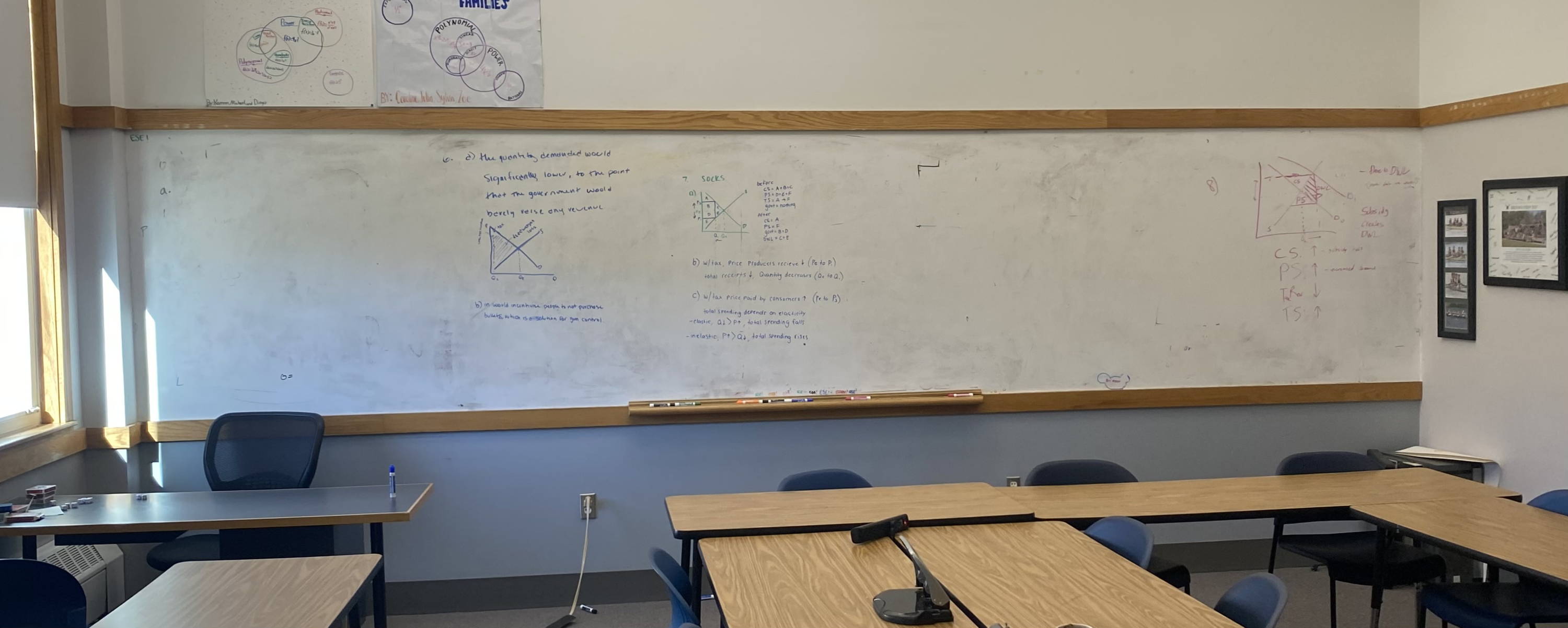 Can you do custom size & templates?
Yes and yes. Just let us know the sizes you need and we'll send you a quote. We price per square foot, so if you have funky 15 foot boards, we can work with you!
We can also print anything you want, whether it's a logo, grid, or music staff. Just let us know what you're looking for and we can get you a quote. Typically we charge a $50-100 custom fee per board that is custom printed.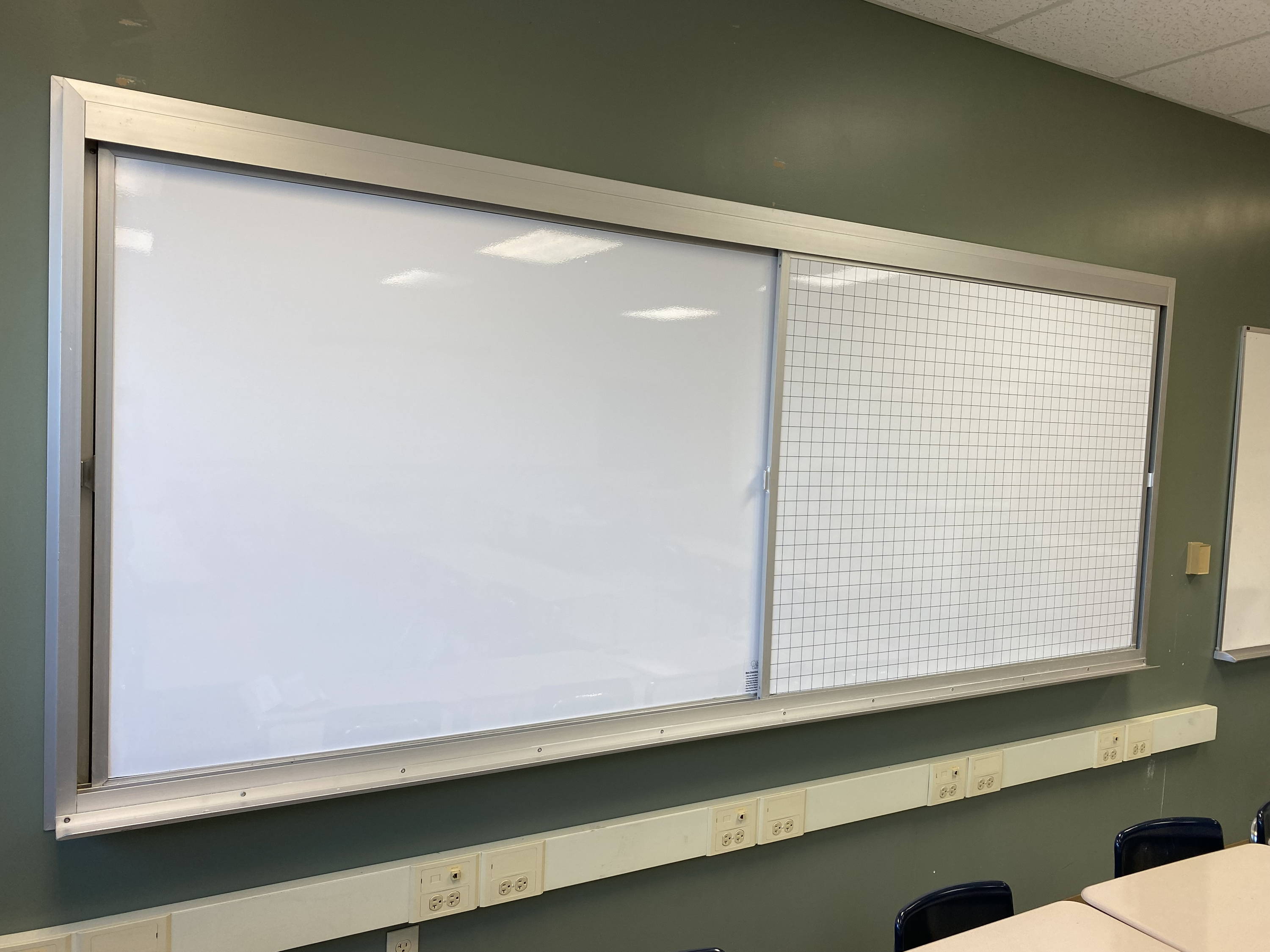 Is this easy enough for my team to handle?
About 50% of our customers decide to self-install the product. We have a quick installation video on our site here, and also have a longer, more detailed version that we can email over to your crew! If anyone on your team has installed wallpaper, wall graphics, window tinting film, or any other large material with a squeegee, then they can probably handle this! Just be sure to have a crew of 2-3 people, watch our install videos, and add more water than you'd think is needed to ensure no bubbles!
Is your team able to install the product?
We have install crews in pretty much every major city in the United States & Canada. As long as you are within a few hour's drive from a big city, we'll be there!
If you're ready to purchase, just request a Formal Estimate with Installation included. Either through this form or via email - purchasing@think-board.com
Outside of this region? Let us know and we'll happily look into expanding into your region so we can work with you and the schools, offices, and hospitals in your area.
Is the product removable after a period of time?
Yes, the adhesive with stay exactly where you want it for as long as you need, AND remove cleanly with no adhesive left behind.
People ask this question for 3 reasons:
Reason 1: Adjusting during install
You'll be able to position and reposition the Think Board over and over again during the install. Just be sure to have enough water on the original board to allow the board to come on and off easily. If you install the entire board incorrectly, you will still be able to remove the Think Board and try again.
Reason 2: "What happens after 15 years?"
Great question. Our adhesive is designed to remove cleanly from your surface. You should be able to remove the Think Board off of your chalkboard/whiteboard and apply a new one without needing to spend hours scraping off adhesive residue. Alternatively, you could simply add another layer of Think Board ontop of the old one and extend the boards life another 15+ years! Imagine that... taking a board that was ready for the landfill and giving it another 15, 30 or 45 years of life that easily! Other competitive products we've seen end up bubbling up over time, peeling at the corners, and leaving lots of adhesive residue behind. This is one of the things that makes Think Board so unique :)
Reason 3: "What if someone peels it off the board as vandalism"
Since the Think Boards get trimmed on-site, they are nearly perfect from edge to edge. Most people don't even notice that there is something to peel. And even if they really wanted to, they would have to peel pretty hard. Out of all the boards we've resurfaced, we've never seen this happen.
Is the process like applying a screen protector or window tinting?
Sort of! Much much larger of an application, but yes, a similar idea. We think installing a Think Board is easier to get a bubble-free install vs. a screen protector. Our founder, Hanson, has installed 5000+ Think Boards but he's still nervous when installing his screen protector 😂
Is this a cleaning product? Or a material that goes over the existing boards?
This is a whiteboard film that covers your old board. It is not a cleaning solution/spray.