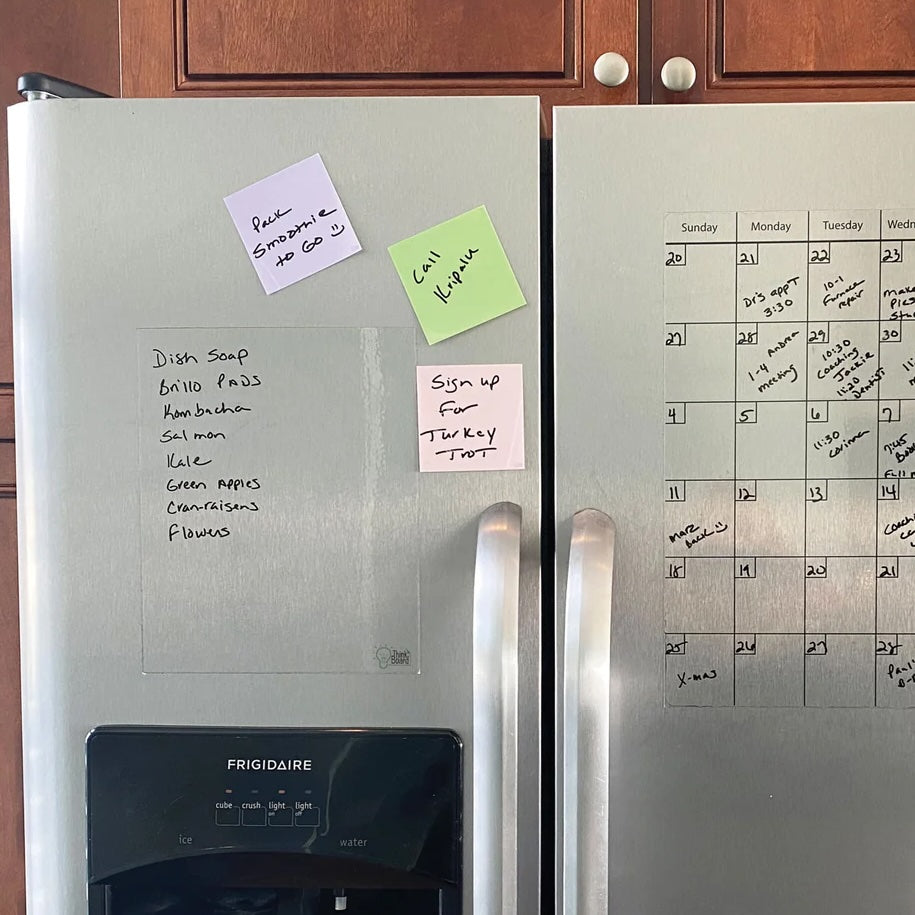 Endless Reminders, One Solution
Revolutionize the way you note-take with Think Notes. Say goodbye to the clutter of paper stickies and hello to our vibrant, reusable Think Notes. Perfect for quick thoughts, to-do lists, or heartfelt messages, these notes are your go-to for capturing ideas in a flash. Stick them on any smooth surface and see how your notes pop with our eye-catching pastel colors.
Also, check out our full Refrigerator Bundle to completely transform your fridge into an organizational hub.
Your Eco-Friendly Memo Mate
Embrace a greener way to jot down your daily dues with Think Notes. Durable, restickable, and made for the long haul, these notes are designed to stand the test of time and tasks. With our easy-to-clean whiteboard finish, simply wipe away and start anew, reducing waste without sacrificing convenience.
A Small Step to a More Organized and Sustainable World
With each Think Note, you're not just getting a surface to scribble on; you're joining a movement towards responsible, reusable note-taking. Crafted with care in the USA, our Think Notes bridge the gap between functionality and sustainability. They're not just good for your workflow; they're good for the planet too. So, whether you're delegating tasks at work, studying for your next big exam, or leaving a reminder to pick up milk, do it with a clear conscience. Think smart, think sustainable, think Think Notes.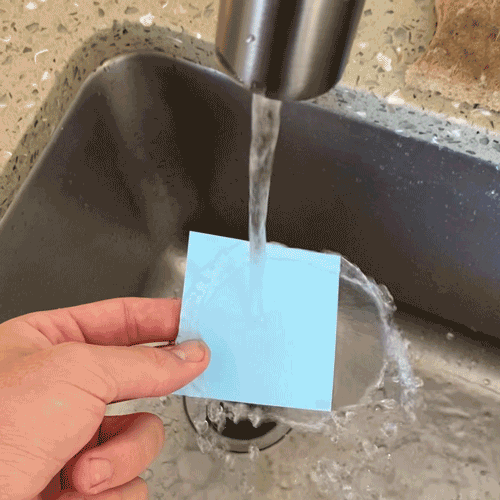 Fully Washable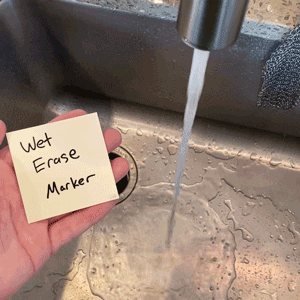 Wet Erase Friendly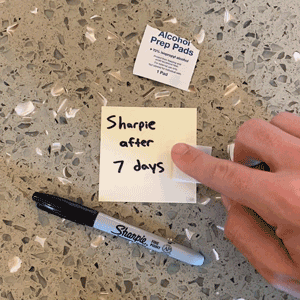 Sharpie-Proof
Why Think Notes?
Eliminate the need for countless disposable sticky notes for reminders, tasks, and quick memos. Instead, utilize our reusable set of 12 Think Notes, designed for repeated use.
Simply peel, position, and place on nearly any smooth surface. Uuse a whiteboard marker for quick notes, and when you're prepared to refresh, whether it's after days, weeks, or even months, simply wipe clean and reuse. Both the whiteboard finish on top and the adhesive backing can be cleansed with water, maintaining their effectiveness even after numerous uses. With Think Notes, there's no need to worry about losing stickiness!
"Personally, I use these to leave thoughtful notes for my partner on our refrigerator at home, and to organize tasks in a Kanban-style at my workplace." - D. Meyers
Our product ensures no damage or sticky residue left on surfaces. The adhesive sticks reliably to all smooth surfaces (performance on painted drywall may differ).
Made in the USA.
Why you need it:
Efficient: Reduces the need for countless disposable sticky notes, encouraging a more organized and clutter-free workspace.
Reusable: Designed for repeated use, simply wipe clean and reuse, offering long-term value.
Versatile: Can be used on nearly any smooth surface, making it suitable for a variety of environments such as home, office, or school.
Eco-Friendly: By reusing these notes, you contribute to waste reduction, supporting a greener planet.
Quality Made: Crafted in the USA with a commitment to durability and longevity.
Convenient: Comes with an Ultra Fine Black Dry Erase Marker and a variety of pastel colors, providing everything you need in one package.
Safe: Leaves no sticky residue or damage on surfaces, ensuring the cleanliness and integrity of your workspace.
What's included:
Think Notes in 6 Pastel Colors: 

Both of our pack sizes include 

6 pastel colors

 (

Blue, Green, Purple, Yellow, Orange, Pink

). Our 12-packs include 2 of each, and our 48-packs include 8 of each. This way, you have plenty of color options to choose from on a daily basis.
Ultra Fine Black Dry Erase Marker: This black dry erase marker is ideal for writing on these Think Notes, creating clear and easy-to-read writing every time. 
1 Instruction Card: We include a brief instruction card in your shipment to ensure you can make the most of this product right off the bat. 
We highly recommend adding a Wet Erase Marker to your order!
Each Think Note measures 3" x 3" / 7.6cm x 7.6cm.
Frequently Asked Questions
How do I properly use and care for my Think Notes?

To use your Think Notes, simply peel off the protective backing and place them on your chosen smooth surface. Write your notes using the included ultra-fine black dry erase marker or a wet erase marker for longer-lasting content. When you're ready to erase, wipe the surface clean with your finger or a damp cloth. For best care, clean both the whiteboard finish and the adhesive backing with water if the stickiness seems to be reducing. Avoid using abrasive cleaners, as they may damage the product.
Can Think Notes be reused on different surfaces, and will they leave any residue?

Yes, Think Notes are designed to be versatile and reusable on nearly any smooth surface, including refrigerators, notebooks, and desks. They are safe to use on various surfaces and are designed to leave no sticky residue or damage, thanks to their gentle adhesive backing. However, they do not work on all painted drywall.
Are Think Notes environmentally friendly?

Absolutely! Think Notes are a sustainable alternative to traditional paper sticky notes. By using our reusable Think Notes, you're reducing the need for disposable paper, cutting down on waste, and contributing to a greener planet. Plus, they are made in the USA with quality materials, ensuring a durable product that lasts, adding to their eco-friendliness by minimizing the need for frequent replacements (if any!)
Or Grab The Full Bundle Below!