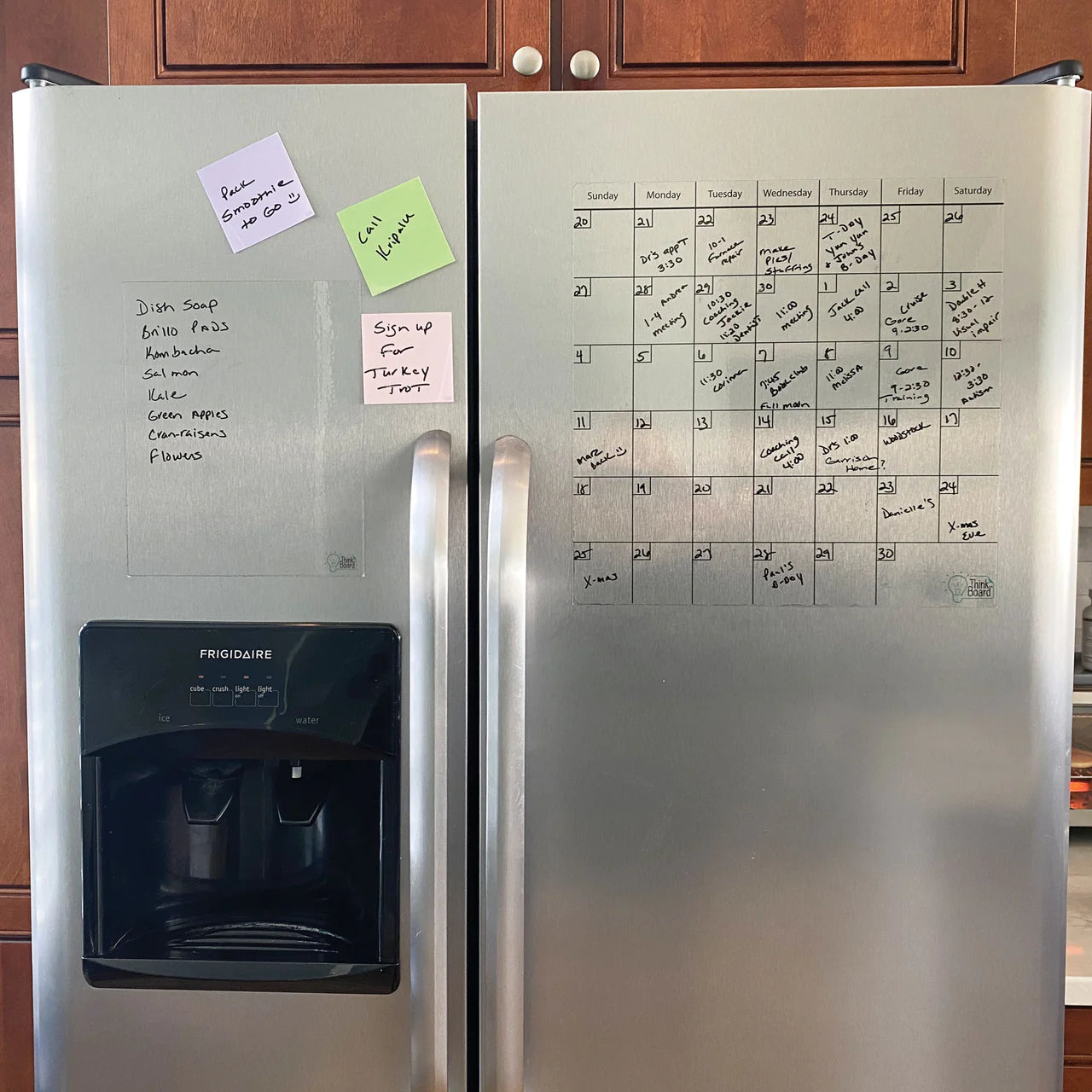 Fridge-Friendly Organization
Embrace the ease of planning with Think Board Calendar – a smart addition to your kitchen or office space. Just peel, stick, and start organizing! Quality crafted for busy lives, right here in the USA. Grab just the calendar, or our full Refrigerator Bundle to completely transform your fridge into an organizational hub. Maximize your space and never miss a beat with everything you need for easy scheduling at your fingertips.
Workspace Wonder
Transform any desk into a dynamic planning station with the Think Board Calendar. It's not just for fridges – our peel-and-stick calendar fits perfectly into your workspace, fostering productivity and keeping your tasks front and center. Whether it's for tracking deadlines or jotting down quick notes, this calendar is your desk's new best friend.
More Than a Surface
At Think Board, we believe that every smooth surface is an opportunity – a space to think, plan, and create. Our products are more than just tools; they are partners in your journey towards efficiency and clarity. Whether it's the classroom, the office, or the heart of your home, we're committed to providing you with premium, innovative solutions to capture your best ideas and most important plans. Join the Think Board family and discover a world where every blank space holds endless possibilities.
Perfect for:
The Peel & Stick Think Board Calendar is an exceptional choice for a variety of environments, including on refrigerators and desks and within home offices. Its versatility allows it to fit seamlessly into your daily routine and existing Think Board collection.
Why you need it:
Elevate your scheduling practices with our adaptable Think Board Calendar. Situated conveniently on your fridge, desk, or office wall, it ensures that you stay updated with your appointments and crucial meetings. It's a tool we find indispensable for our own scheduling needs.
Depending on your requirements, you can choose from our standard sizes of 14"x14" or 24"x24". If you desire a more substantial calendar, consider our Premium Calendar XL, available in three larger dimensions: 2'x3', 3'x4', and 4'x6'.
To maintain a clean and clear calendar, we advocate for the use of our wet erase marker. It provides finer and neater writing compared to the included dry erase marker. You can get it here.
What's included:
In addition to your Think Board Calendar, you will receive the following items with your purchase: 
1 Cleaning Cloth: This microfiber cloth is perfect for keeping your board spotless and ready for use. 
1 Black Dry Erase Marker: The marker produces clear and visible writing every time. 
2 Sets of Velcro Dots: Use these to attach the marker to the wall and hang the cloth. 
1 Mini Squeegee: The squeegee aids with keeping your board clean.
1 Water Spray Bottle (Empty): We include this to ensure you have a quality spray bottle available for regular whiteboard cleaning and maintenance. 
Experience the convenience of transforming any surface into a reusable whiteboard calendar with a simple peel & stick application — no mess, no fuss. This product won't inflict any damage to surfaces nor leave a sticky residue behind.
Our Think Board Calendar is proudly made in the USA.
Frequently Asked Questions
How can I ensure a smooth installation of my Think Board Calendar?

Achieving a seamless installation of your Think Board Calendar is simple with our step-by-step Wet Install video guide. Our biggest pro tip is to use plenty of water during the application — don't be shy! This will allow you to move the film around and reduce air bubbles. After installation, give it a few days to fully dry; it might appear foggy at first, but this will clear up as it sets. Ready to get started? Head over to our installation page and watch our Wet Install video for all the tips and tricks you'll need.
Does the Think Board Calendar leave any residue upon removal?

Our Think Board Calendar is as respectful to your surfaces as it is to your planning needs. When you're ready for a change, it peels off cleanly without leaving any sticky residue behind. Unfortunately, it won't be reusable at this point.


If you're using it on a stainless steel fridge, the surface underneath may appear slightly different in color initially. This is due to the oxidation process of stainless steel, not from any residue. Just give it a few days to a few weeks, and the surface will oxidize back to match its original appearance.
How does the Think Board Calendar adhere to different surfaces?

The Think Board Calendar is designed with a special adhesive that allows it to stick securely to any smooth surface without causing damage. You can apply it to a wall, desk, table, door, fridge, window, or really any smooth surface. This makes it an ideal tool for teachers, professionals, and anyone who loves to stay organized.
Perfect for stainless refrigerator
This is perfect for my fridge . Love it.
Clear works
Easy install. The video helped. I ordered the clear to put in my incubator to track the set eggs. Comes with pen so far so good.
Great way to get organized
The YouTube video is very informative and easy to follow. Easy installation, comes with velcro for the also included dry erase marker & a microfiber cloth.
love this!
This is exactly what I have been looking for to stick on my refrigerator!! Only con is the company label at the bottom right corner. That's where I write the month and that label takes up my room to write the month
Cost too much for a sticker
This costs way to much for basically a one use sticker. If it were reliably able to be moved on the wall and readhered it might be useful. Not for me.
Or Grab The Full Bundle Below!